Eclairs and Profiteroles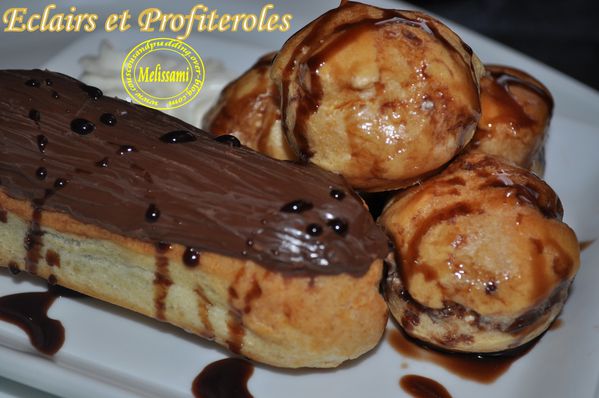 These eclairs and Profiteroles made from choux pastry are very tender and crisp and as light as air. To describe the preparation of choux pastry as delicate is quite wrong. It is so quick and easy to make, providing you follow the quantities and the cooking and baking times exactly. I must confess that it is my 1st attempt so I had to call my friend many times on the phone to make sure that I am following the right procedure. So these are her advice:
Tip the flour into the water all in one go.

Beat the flour mixture continuously until it forms a ball and a white film covers the base of the pan.

Transfer the hot mixture into a chilled mixing bowl.

Add the eggs one after the other. Always wait until one egg is completely worked in before adding the next.

The mixture should be glossy and form firm peaks.

Do not open the oven the first half of the baking time.

If you are going to fill the pastry the cakes must be split while still hot.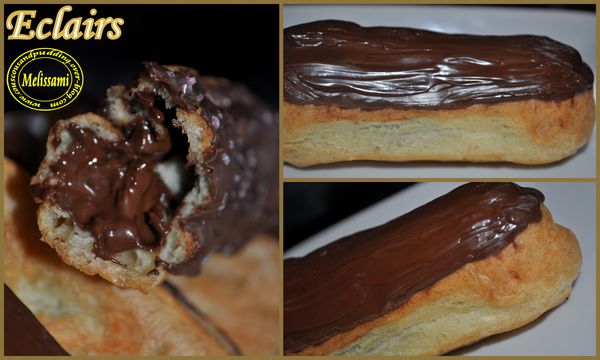 And here are the results, for the 1st attempt I am very proud ...I have used whipping cream and sugar (to taste) for the profiteroles and I filled the eclairs with chocolate creme patissiere and covered with chocolate melted in a Bain Marie. A real Treat............
xxxx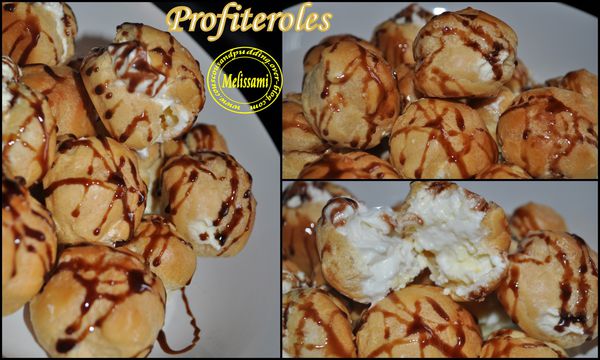 Ingredients:
250ml water
100g butter
150g plain flour
4 eggs
1/2 tsp salt
Method:
Bring the water to the boil with the salt.
Add the butter and dissolve in the water.
Tip in the flour at one go, stirring continuously.
Beat over a moderate heat until the mixture forms a ball.
Dry out the ball, turning it often unti a white film covers the base of the pan.
Transfer to a mixing bowl.
Add the eggs one after the other and beat in.
Spoon the pastry mixture into a pipping bag.
Pipe the pastry through a plain nozzle to make balls for the profiterols.
For the eclairs I've used an eclair tin.
Bake in a preheated oven 200C/GM6 for 20-25min.
Cool on a wire rack.
Decorate as you feel.